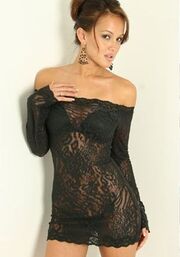 Crystal Lowe plays Lauren Hannon in Black Christmas remake.
She appareated in more horror movies: Final Destination 3, Wrong Turn 2: Dead End, Pick Me up, Children of the Corn: Revelation, Yeti: The Curse of The Snow Demon, Sanctimony, Snakes on a Plane, Case 39 and Thralls.
Ad blocker interference detected!
Wikia is a free-to-use site that makes money from advertising. We have a modified experience for viewers using ad blockers

Wikia is not accessible if you've made further modifications. Remove the custom ad blocker rule(s) and the page will load as expected.